Another Aussie Trip, July 2001
by Trevor McGavin.
This was a 2-week holiday with my brother Peter, mainly visiting relatives and friends in Sydney and Brisbane, but also enjoying some interesting scenery along the way.
The first week was in Sydney and surrounds, then a car trip to Brisbane via the "Putty Road" to Tamworth, then to Byron Bay (eastern most point of the Aussie mainland) via Armidale - Dorrigo - Coffs Harbour, then to Brisbane and surrounds for a few days, including day-trips to Bribie Island and Toowoomba respectively.
To get back to Sydney we tried out the "fast" daytime XPT train service: just under 14 hours Brisbane to Sydney. Comfortable seats and interesting views.
Then duty-free shopping in Sydney (treated myself to a Sony Digital 8 handycam) before flying back to Wellington.
Here are some shots taken with my Ricoh digital camera along the way.
Click the images to see higher resolution versions.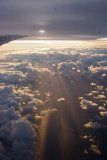 A lovely sunrise from early Wellington-Sydney flight, over Tasman Sea, approaching Sydney.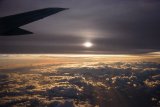 The same sunrise.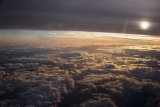 Beautiful (made the 3am wake-up in Wellington worth-while)!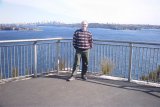 At North Head, entrance to Sydney Harbour.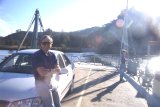 Crossing Hawkesbury River by car-ferry, near Wisemans Ferry, northwest of Sydney.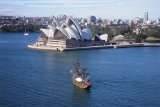 We walked over Sydney Harbour Bridge for some nice views.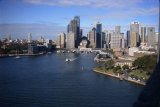 Sydney's Circular Quay and high-rises.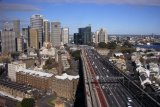 More Sydney city-scape from the Harbour Bridge.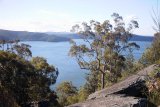 A nice view of the Hawkesbury and Broken Bay from Ku-ring-gai Chase National Park.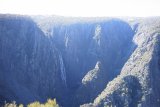 Wollomombi Falls, one of the tallest waterfalls in Australia - between Armidale and Dorrigo.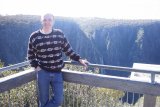 Me (Trevor) at Wollomombi falls. Reminded me a little of Fiordland, but without those pesky sandflys!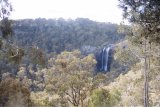 Ebor falls (lower), also between Armidale and Dorrigo.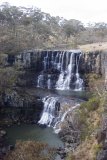 Ebor falls (upper) - very nice!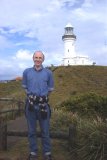 Cape Byron lighthouse, eastern-most point of the Australian mainland.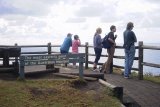 Another view at Cape Byron. Didn't see any whales unfortunately.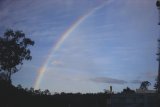 Struck some rain in Brisbane, but this made up for it - a pretty rainbow (from Mt Coot-tha).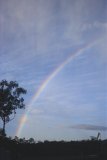 The same gorgeous rainbow.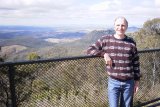 Nice views from Toowoomba, inland from Brisbane. Above 700m, and on this day quite cold and windy - only 11C!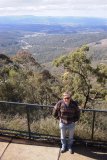 Peter (my brother) at Toowoomba.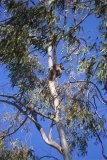 This was the first time I'd ever seen a Koala Bear in the wild, not only that but it was active too - most unusual! At a Rest Area near Wivenhoe Dam, west of Brisbane.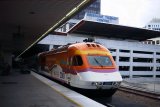 About to leave Brisbane - our transport back to Sydney.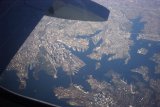 A great view of Sydney on departure for Wellington.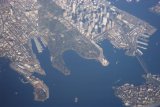 And a close-up.