My South Island Trip, November 2000
by Trevor McGavin.
I enjoyed an 8-day drive around the South Island in November to re-visit some of the beaut scenery down that way - in particular, hadn't been to Fiordland in some years so was interested to see any changes there.
The route was Picton - Christchurch - Twizel (and Mt Cook) - Manapouri (and Doubtful Sound) - Wanaka - Haast Pass - Fox Glacier - Arthur's Pass - Rangiora - Blenheim. Was lucky with Cook Strait ferry crossings to and from Picton - the only 2 "light-wind" days of the whole period!
The weather was changeable (surprise, surprise) - it actually rained 7 days out of the 8, but there was plenty of sunshine most days too. A crisp cold clearance on the Christchurch to Twizel leg provided marvellous evening views of Mt Cook; the waterfalls excelled at Doubtful Sound (where it rained of course); and had the fun of driving in snow on the Crown Range to Wanaka.
Some of the memorable things (not in any particular order):
thousands of lupins and fox-gloves along the roadside.
numerous "Britz" camper-vans.
lots and lots and lots (and lots...) of buses.
Mt Cook at sunset.
Doubtful Sound - awesome fiords and waterfalls, and friendly bottle-nose dolphins.
a collection of old Morris Minors at Manapouri.
overseas tourists galore (very few Kiwis).
Puzzling World at Wanaka (Illusion House a highlight).
Helimax "sea-to-mountains fly-by" movie ("Flowing West") at Franz Josef.
Queenstown like a mini-city, bustling and congested.
driving in snow on summit of Crown Range/Cardrona road.
Kingston Flyer steam train (nostalgic).
Benmore Dam (big).
impressive construction works on road through Arthur's Pass.
Took the chance to test out my now "not-so-new" Ricoh digital camera - took over 80 photos - all fitted happily on my 32Mb SmartMedia card, and only had to change the batteries once. I've included some here.
Click the images to see higher resolution versions.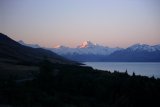 Mt Cook at sunset, with Lake Pukaki.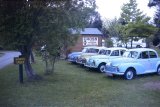 A collection of Morris Minors at Manapouri.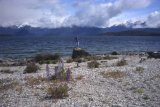 Lake Manapouri.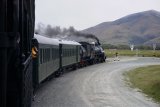 The Kingston Flyer, at Fairlight.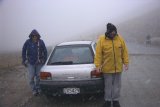 In the snow on Crown Range/Cardrona Road with trusty Subaru Impreza.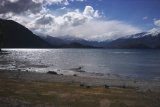 Lake Wanaka.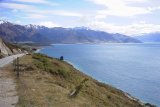 Lake Hawea.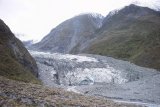 Fox Glacier.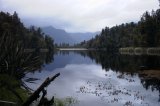 Lake Matheson, near Fox Glacier.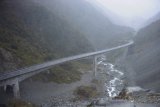 Arthur's Pass road viaduct (in rain and gale force nor'wester).