Australia Again, October 2002
by Trevor McGavin.
Photos from a 3 week holiday covering a 10 day drive through Victoria and South Australia with my brother Peter, and then 7 days of Western Australia scenery (Perth and northwards) with Peter, our sister Neroli and her daughter Michelle.
The highlights included the Grampian Mountains, the Great Ocean Road, the Murray River (followed this from Albury to the sea), and scenery north of Perth, including the Pinnacles and Kalbarri National Park.
The photos were taken with a Ricoh RDC-5000 digital camera (except for some which are stills from video).
Click the images to see higher resolution versions.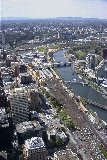 Melbourne from Rialto Tower, the highest office building in the Southern Hemisphere.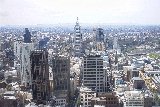 A superb view of Melbourne from Rialto Tower.
Peter in the rugged Grampian Mountains, west of Melbourne. Wonderful scenery!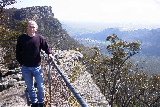 Trevor in the Grampians, Halls Gap in valley below.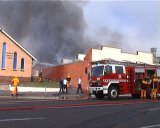 Building on fire in Warrnambool, Victoria (video still).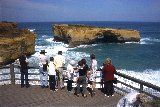 "London Bridge" on the Great Ocean Road, southwest of Melbourne. The bridge collapsed in 1990 stranding two people on the newly-formed island.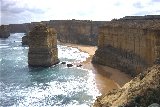 Impressive cliffs at the "Twelve Apostles" on the Great Ocean Road.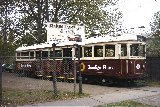 A tram in Bendigo, north of Melbourne.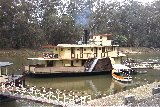 Paddle-steamer on the Murray River at Echuca, northern Victoria.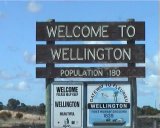 Found another Wellington along the way - this one's in South Australia, near where the Murray River reaches the sea. Much smaller than the Wellington we know so well (video still).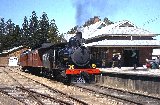 Steam train giving school holiday rides, at Victor Harbour, south of Adelaide.
Michelle, Neroli and Peter in Perth.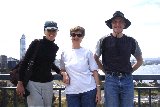 Michelle, Neroli and myself (Trevor) in Perth.
"Pinnacles" rock formations, north of Perth. Like being on another planet!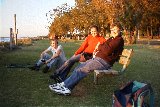 Peter, Michelle and Neroli, watching the sunset at Geraldton, WA.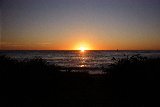 Beautiful sunset over the Indian Ocean, from Geraldton, WA.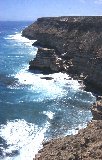 Spectacular cliffs south of Kalbarri, WA.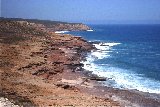 A striking view from Red Bluff near Kalbarri, WA.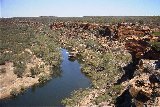 Classic Aussie scenery at Hawks Head Lookout (Murchison River), inland from Kalbarri, WA. A warm 27C here, and the flies enjoyed our company!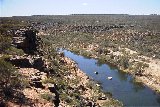 Another nice view at Hawks Head Lookout.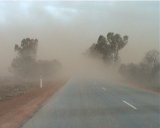 Drove through a duststorm northeast of Perth. Gale force northwesterlies whipped up the top-soil. There were tornadoes reported in Perth the same day (video still).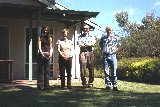 All of us (Michelle, Neroli, Peter and Trevor) back in Perth, at Swan Valley Holiday Cottages. We enjoyed a visit to the nearby Margaret River Chocolate Company!